Pete's Pub Closed Til OCTOBER – See You All T
Pete's is a classic beach restaurant/pub and the only working sculpture foundry in the Bahamas. We're world famous for nature and oceanic inspired large sculptures, jewelry and more. Visit this special artists colony at the edge of the world.
Pete's Pub August Calendar
August 18th
Last Day Pub is Open for Season
Last Days of the Season
Boat or drive over for a cool drink, at
swing, and a beautiful sunset end your
day atPete's Pub!
It doesn't get much better!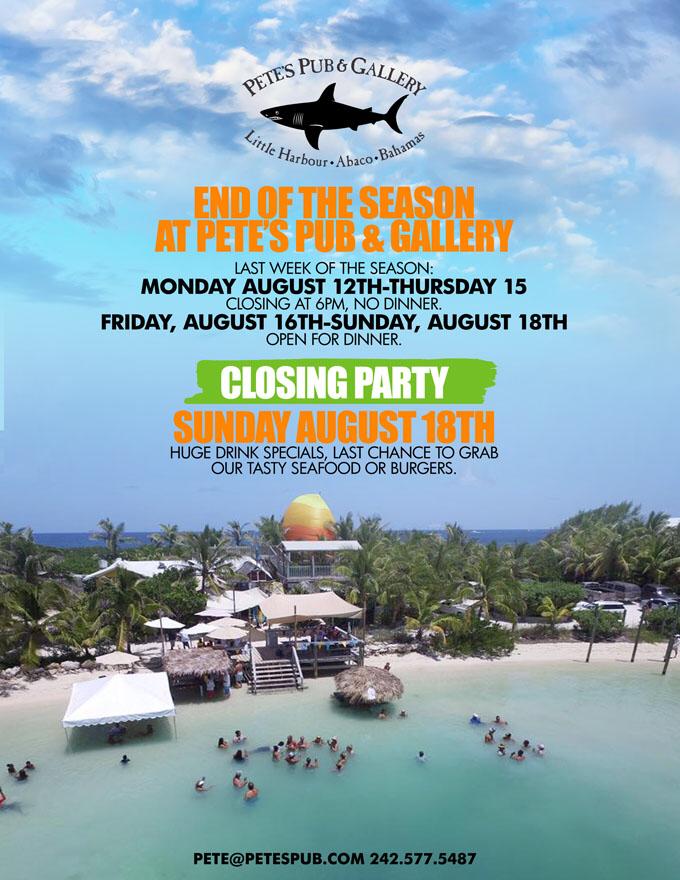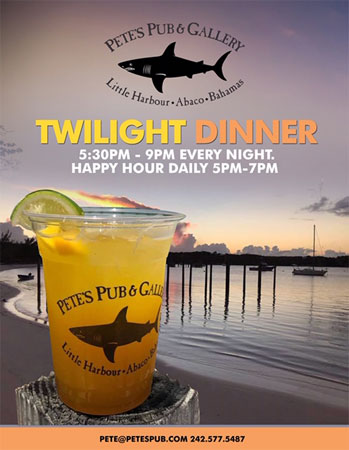 … and then there is Sushi Every Friday Night at Pete's Pub. Beautiful!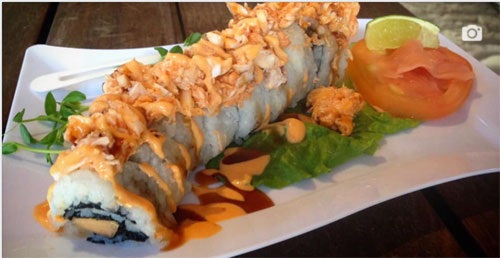 Get outfitted in our awesome PETE'S PUB gear. Visit our online store to get great Pete's products delivered to your door! Click the link to see all our sweet stuff.
People from around to world flock to Pete's Pub for our amazing food, music and all around good times. Fresh Bahamian seafood and other local treats are always available here.
Pete's is home to the only working bronze foundry in the Bahamas. We're world renowned for our sculptures and are in permanent collections at the Vatican and museums worldwide. Check out the amazing ocean inspired work and how it's made.

Visit Us By Boat, Air And Automobile
Questions? Ideas? Contact Our Team Today.
Pete's Pub & Gallery
Little Harbour
Abaco, Bahamas
1-242-577-5487
1-242-357-6648
pete@petespub.com