Pete's Pub Foundry
One thing that makes Pete's Pub and Gallery so special is our working bronze foundry. No where else in the Bahamas and few places worldwide have a true working foundry like this. We use traditional techniques to create beautiful works of art. It is a 3 generation tradition here that is steeped in history. Contact our team to schedule a time to see these beautiful works of art being made. From the initial sculpting, to the red hot casting process to the final welds and polish it's a fascinating process that is amazing to see in action.
History Of Pete's Foundry
Founder Randolph Johnston was a well known american educator and sculptor who relocated here with his family in the 50's. Once here they started to create the Little Harbour that you see today. Randolph built the original buildings and foundry that we still use today. The amount of work and perseverance that it takes to create such substantial structures in a place that was then so, so remote really attests to the perseverance and fortitude of this most elder Johnston.
Pete Johnston has become a well known artist internationally especially renowned for his large scale oceanic inspired works and his multiple Old Man And The Sea inspired sculptures and wall pieces. Petes work is in museums, airports, government buildings and private collections worldwide. Pete's work achieves a gravity and weightlessness that makes it both substantial and classically elegant. Visit our gallery or walk around Little Harbor to see many great examples to these beautiful sculptures.
Greg Johnston is the 3rd sculptor in this artistic family. In addition to creating beautiful works of art Greg manages the day to day workings at Pete's Pub and also catches much of the seafood you see on the menu at the pub. Yet another renaissance Johnston, at any given moment Greg can be found sculpting a beautiful bonefish, repairing an outboard engine, diving for lobster, or performing one of the hundreds of tasks it takes to maintain Pete's. Ironically, it takes a ton of hard work and heavy lifting to maintain a relaxed island paradise!
Tyler Johnston is another artist in the family. Tyler lives in New York City and produces documentary and traditional films. His work has been acclaimed worldwide and he is known for his artistic sensibilities and trained eye.
Casting Bronze At The Foundry
[ngg_images gallery_ids="6″ display_type="photocrati-nextgen_basic_thumbnails"]
Pete and Foundry Happening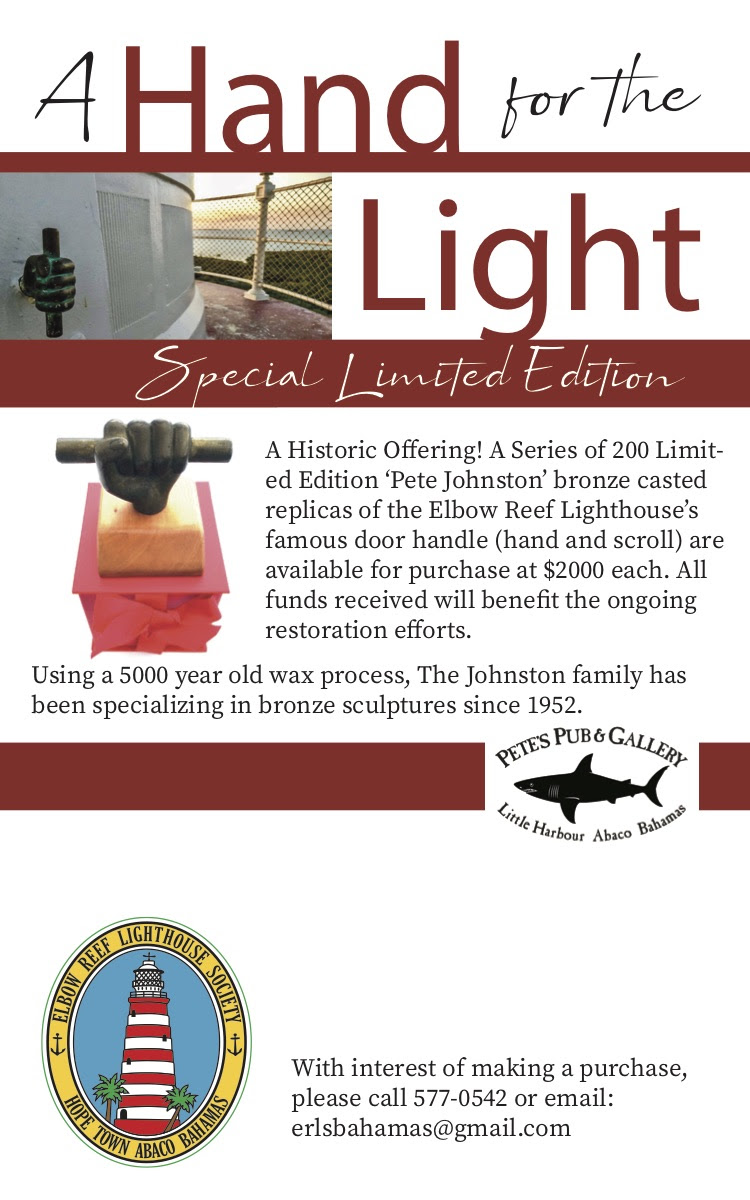 Pete is always working. Check out some of the pieces that he has complete or is working on. You just never know what he's gonna do next
Email Richard
@ ravagougle@gmail.com
To purchase or place a custom order
(all sizes and shapes available)
"These beautiful hands are being produced at a modest price by the Pete's Pub Foundry… That is our contribution to the restoration of this beautiful lighthouse"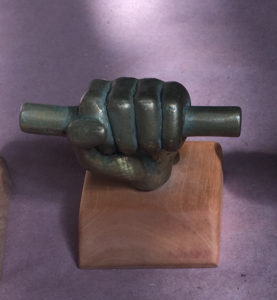 Questions? Ideas? Contact Our Team Today.
Pete's Pub & Gallery
Little Harbour
Abaco, Bahamas
1-242-577-5487
1-242-357-6648
pete@petespub.com